About Wix
Wix is a website building and publishing platform which helps users create professional websites exactly the way they want, with a drag and drop website builder, designer-made templates, and more. Wix offers users a few different ways to build their site, including Wix Artificial Design Intelligence (ADI), Wix Editor, and Wix Code, depending on whether the user is creating a site for the first time or a pro.
Wix ADI allows users to build a unique site with professional text, images and more, while Wix Editor gives users design freedom with advanced functionality and easy drag and drop. Wix Code enables users to create state-of-the-art sites & apps. Essential Wix essential features include simple drag and drop, mobile-friendly optimization, custom domain names, and one-pager websites, as well as beautiful blogs, social buttons and online stores. Users can manage site design with templates, an image editor, and high-resolution stock images, plus video backgrounds, and more.
Wix supports a range of business tools including site analytics, an SEO wizard, and personalized mailbox, as well as communication and financial tools. Email marketing technology allows users to create, send and share emails about sales, new products, services or events easily. Wix also offers different support options like a 24/7 help center, knowledge base, video tutorials and walkthroughs, and phone calls.
Compare with Popular Alternatives
Key benefits of Wix
Advanced HTML5 Technology: Wix is the only drag and drop website editor that offers users HTML5 capabilities.
Hundreds of Designs: Perfect both for business website and a personal portfolio.
Customizable: Change colors, text, backgrounds, pics & more to create a unique site.
Top Grade Hosting: Wix is dedicated to providing users with the best, most reliable hosting, 100% free.
Mobile. Facebook. Blog: All users need in one place. Create websites, mobile sites, Facebook pages & blogs too.
Markets
Australia, Brazil, Canada, China, Germany
and 5 others
, United Kingdom, India, Japan, Mexico, United States
Supported Languages
English, French, German, Italian, Japanese
and 3 others
, Portuguese, Russian, Spanish
Compare with Popular Alternatives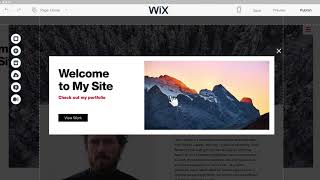 Total features of Wix: 80
ACH Payment Processing
API
Accounting
Alerts/Notifications
Appointment Management
Booking Management
Calendar Management
Campaign Management
Cataloguing/Categorisation
Chat/Messaging
Collaboration Tools
Commenting/Notes
Communication Management
Contact Management
Content Management
Credit Card Processing
Customer History
Customisable Branding
Customisable Forms
Customizable Fields
Customizable Templates
Data Security
Design Management
Drag & Drop
Email Distribution
Email Marketing
Event Triggered Actions
Financial Management
Form Builder
Forms Management
Geographic Maps
HTML5 Technology
Image Editing
Image Library
Inventory Management
Invoice Management
Kitting
Knowledge Base Management
Landing Pages/Web Forms
Moderation
Multi-Channel Communication
Multi-Language
Multi-Store
Online Booking
Online Booking Tools
Online Forums
Online Store Builder
Order Management
Order Tracking
Post Management
Pre-built Templates
Preview Functionality
Product Catalog
Promotions Management
Ratings / Reviews
Real Time Editing
Real Time Notifications
Real-time Updates
Reporting/Analytics
Reservations Management
Responsive
SEO Management
SSL Security
Sales Tax Management
Search/Filter
Shipping Management
Shopping Cart
Social Advertising
Social Media Integration
Subscription Management
Survey Builder
Templates
Third Party Integrations
Video Management
Visitor Tracking
WYSIWYG Editor
Website Analytics
Website Integration
Website Management
eCommerce Management
Odoo
#1 Alternative to Wix
Odoo is a fully-integrated, customizable, and open-source suite of business applications. A majority of the business...
Marketing 360
#2 Alternative to Wix
Marketing 360 is trusted by over 20,000 small businesses. Business owners use our business growth platform because the...
Squarespace
#3 Alternative to Wix
Squarespace is the all-in-one platform to build a beautiful website, online store, or portfolio. Drive traffic to your...
monday.com
#4 Alternative to Wix
monday.com is a cloud-based Work OS, where teams create workflow apps in minutes to run their processes, projects, and...
---
Already have Wix?
Software buyers need your help! Product reviews help the rest of us make great decisions.
Write a Review!
Showing 5 reviews of 5,852
Industry: Civic & Social Organization
Company size: 201-500 Employees
Used

Other

for

2+ years

Review Source
Overall rating
Value for Money

Ease of Use

Customer Support

Likelihood to recommend

9.0

/10
Considering time efficiency in building a good-looking website, WiX is a no-brainer
Reviewed on 03/04/2020
WiX serves best as a prototype when discussing with stakeholders on the design / look and feel for...
WiX serves best as a prototype when discussing with stakeholders on the design / look and feel for anything that appears online. Instead of putting the text in a word document and arguing the color tone or how pictures should be displayed, why not just open up a WiX account and start building a prototype to facilitate discussion? My experience is that this tool significantly reduces the turnaround time discussing / confirming with vendors on web design details. Another shortcoming is its SEO capability. But again, it's best for beginner and not for advanced user.
Pros
I would consider Wix as the most easy-to-use website builder, when compared with Wordpress & Strikingly. Over the years it has made huge improvements, especially now with its ADI (Artificial Design Intelligence) feature where you'll first be asked a couple of questions regarding the purpose, the functions, the look and feel of your ideal website, then a ready version would be automatically generated for your further edit, i.e. via drag and drop of your preferred style.
Cons
At first I didn't even recognize the difference between Wix Editor & Wix ADI so I got confused and found difficulty following the step-by-step advice on Q&A session. It's simple to identity which is which: If you didn't answer those questions in the beginning, and chose your own designer template instead, then that's a website built under Wix Editor which allows full control over every aspect of the site. On the other hand, if you're like me who wants a quick solution and accept the readily generated website, then it's built under WiX ADI, but you then lose the autonomy to change, even it's just the minor stuff on the webpage. And here comes the problem: Sometimes, when the functions on WiX ADI just didn't work (e.g. after hitting a button a menu was supposed to appear on the left but it just didn't show up) then it's time to write an inquiry to Customer Service Support, instead of reading through the Q&A which mainly offers advice on WiX Editor.
Industry: Entertainment
Company size: 2-10 Employees
Used

Weekly

for

2+ years

Review Source
Overall rating
Value for Money

Ease of Use

Customer Support

Likelihood to recommend

9.0

/10
Perfect for Service-Related Businesses
Reviewed on 30/04/2021
Wix has been my favorite platform to promote my products but in 2021, I decided to switch things up...
Wix has been my favorite platform to promote my products but in 2021, I decided to switch things up and create a Shopify store with a domain name because Wix was not helping me generate sales at all. It became too pricey, too complicated, and the packages didn't offer discount options during the pandemic, so I had to hire a freelancer from Upwork. The Wix experts never communicated well with me, were slow when providing the service, and did not complete the project.
Pros
My favorite part of the software is the videomaking tool. Along with the videos I create, I can post them in a template through Wix and send my newsletters to my subscribers and customers. Wix does a great job of keeping a track of my subscribers and having an organized analytics page. I don't think Wix is disorganized at all. It can be pricey for the different type of services to make my website stand out on Google search, but there are discounts from time to time.
Cons
My least favorite part of Wix is how it is weak in sales. I had to create a Shopify store to promote the sales part of my business because Wix is more efficient for service-related companies. When I do use the videomaking feature, there aren't that many video templates to choose from. Instead, I am limited on the template designs. For music, it is endless, but I don't plan to use every type of audio in my videos. The other issue is price. I hired a freelancer from Wix to help me with my SEO and it was $100 for just linking SEO and I thought it was too pricey. I ended up using Upwork to hire someone else to help me promote my products. The freelancers signed up in Wix (also called Experts) are not good with communication and they are too expensive.
Industry: Design
Company size: Self Employed
Used

Other

for

6-12 months

Review Source
Overall rating
Value for Money

Ease of Use

Customer Support

Likelihood to recommend

4.0

/10
Wix: Not as good as WordPress... arguably better than SquareSpace (that's right. I said it!)
Reviewed on 23/07/2019
I have designed two websites with Wix. I am extremely pleased with how one website looks and with...
I have designed two websites with Wix. I am extremely pleased with how one website looks and with the email campaigns that have been super easy to set up and send out. That client needed a beautiful site and email functionality. Wix was cost effective for this purpose and she is able to make minor changes even though she is not tech-savvy. My other client needed shopping cart functionality and already had his site made at Wix. I made the site look nicer and loaded all of his items into the cart... but Wix could not handle the size of the store. The site works and looks great, but he had to use Shopify for his purposes. Overall, I choose WordPress because, as a designer, I need 100% functionality and the ability to do anything my clients need. Out of the box, Wix can't do some of these custom things. But I have no problem recommending Wix as the CMS to use when you are not a designer and you can't afford SquareSpace (nor should you use Squarespace because, despite SqSp marketing, a developer is required for simple changes). I am not a fan of Squarespace. So! Use Wix if WordPress is too big of a beast. :)
Pros
Wix is easy to use. It is a WYSIWYG CMS that handles everything from design to email campaigns to shopping carts. It features a number of different styles of photo galleries and offers a large range of word processor-style copy options (compared to Squarespace). Dragging padding is easy, searching for high-quality photos and videos (provided by Wix) is easy. Font options are plenty. Wix allows you to upload your own photos, which are stored in an image gallery for easy selection throughout the design process (Squarespace does not have an image gallery which means you have to upload the same image multiple times whenever you need it which is extremely slow and frustrating). Changes can be made per item per section allowing 100% customization (Squarespace applies changes globally and code is required for per-item changes). Wix is closer to WordPress than SquareSpace when it comes to being able to do whatever you want to do to get things exactly as you want them without using code. Wix uses plugins for added functionality (Squarespace does not have plugins available). For a beginner, Wix is a great CMS.
Cons
Wix is not WordPress. It is designed for beginners to make all of the basic things anyone needs as easy as drop and drag. But WordPress + Divi theme is the best choice if you aren't afraid of a little learning curve. Wix's shopping cart functionality is not powerful. I made a store with a few dozen choices that had a handful of options each. This crashed the cart. If you have a handful of items to sell, Wix would be fine. Otherwise, use Shopify.
Industry: Music
Company size: Self Employed
Used

Daily

for

2+ years

Review Source
Overall rating
Value for Money

Ease of Use

Customer Support

Likelihood to recommend

10.0

/10
Amazing Website Functionality with Incredible Features
Reviewed on 16/04/2021
My overall experience with Wix has been a very positive one. Wix fills a unique niche in that it...
My overall experience with Wix has been a very positive one. Wix fills a unique niche in that it allows beginners to create a professional-looking website with little to no coding skills, yet has extremely advanced features that grow with you. From booking integration, to blog creation, menus to mobile device formatting customization, I really have not found any other platform that is so extensive in what it offers.
Pros
Wix is one of the best website providers out there. The features are easy to start with, yet provide unprecedented opportunity for enhancement. Some of the advanced tools they provide such as databases, datasets, and dynamic pages, allow for templates to be created without manually copying each page. Wix has amazing music player integration, allowing composers and music artists to showcase and sell their work directly from their website. The apps, coding tools and new addition, called Velo, allow for infinite customization, making Wix a great choice for anyone who needs more than the basics.
Cons
Overall, Wix is amazing and I have had very positive experiences using their platform. However there are a few areas for improvement. Wix is missing Apple Pay functionality at the moment. This drives customers to other platforms in order to fill this gap. Wix also has an amazing art store app with so much potential, however the company used for print fulfillment has received several less-than stellar reviews. I have also noticed that website speeds for Wix sites tend to be slightly slower than other companies. There are also several formatting glitches I have experienced with Wix, especially with page layout, but they seem to be short-lived. The limited social media share button customization in terms of color, shape and formatting can be frustrating for websites with a specific decor. Otherwise, my experience has been very positive.
Industry: Information Technology & Services
Company size: Self Employed
Used

Daily

for

1+ year

Review Source
Overall rating
Value for Money

Ease of Use

Likelihood to recommend

9.0

/10
Great service for setting up a new website!
Reviewed on 25/04/2021
Overall, the ease of use and simple beauty of Wix is, for me, well worth the premium I pay. If I...
Overall, the ease of use and simple beauty of Wix is, for me, well worth the premium I pay. If I can pay a little extra to save a whole lot of time and headache, I do - and Wix lets me do exactly that.
Pros
Wix is incredibly easy to use, especially with Wix's ADI (Artificial Design Intelligence). I have zero knowledge of web design, let alone design in and of itself. Using Wix's ADI I was able to make a gorgeous website for my company that continues to get compliments. It's very easy to update the website with new information, which is a must-have for me. I've rarely had issues with speed or usability - Wix just works.
Cons
Wix can be expensive. The price for ease of use seems to be higher premiums for what would be a given elsewhere - specifically, higher plans within their "website plans" tier only really offer marketing incentives (in my opinion) that expire after a year of use. Sure, you get more storage as well - but $5/mo just for an extra 10GB of storage (from Unlimited plan to Pro plan) seems a little steep, given that for $0.05 I could store the same amount on Backblaze B2 and use a Wordpress instance. In short, anything beyond the basic Combo plan seems obtusely overpriced. Moreover, every single time I enter Wix to edit my site, I feel I'm met with annoying advertisements to get a custom email, get a custom domain, etc. etc. which are just advertisements for services I already have elsewhere (though lately these have calmed down).
Wix FAQs
Below are some frequently asked questions for Wix.
Q. What type of pricing plans does Wix offer?
Wix offers the following pricing plans:
Starting from: EUR 4.50/month
Pricing model: Free, Subscription
Free Trial: Not Available
Q. What are the main features of Wix?
We do not have any information about Wix features
Q. Who are the typical users of Wix?
Wix has the following typical customers:
Self Employed, 2-10, 11-50, 51-200, 201-500, 501-1,000, 1,001+
Q. What languages does Wix support?
Wix supports the following languages:
English, French, German, Italian, Japanese, Portuguese, Russian, Spanish
Q. Does Wix support mobile devices?
Wix supports the following devices:
Android (Mobile), iPhone (Mobile)
Q. What other apps does Wix integrate with?
Wix integrates with the following applications:
123FormBuilder, CakeMail, Dropbox Business, Eventbrite, Facebook, Google Analytics, Google Workspace, Instagram, LiveChat, Mailchimp, PayPal, Tidio, Twitter
Q. What level of support does Wix offer?
Wix offers the following support options:
Email/Help Desk, FAQs/Forum, Knowledge Base, Phone Support, Chat
Related categories
See all software categories found for Wix.